How much does it cost?
Our weekly fees depend on individual needs of the prospective resident and are based on a comprehensive pre-admission assessment. We would encourage you to visit the home and discuss your needs with our Service Manager.
Our weekly fee rate covers accommodation, full board, in-house laundering of personal items of clothing (except dry cleaning), daily activities within the home and the provision of 24 hour care and support agreed on admission to meet the prospective resident's assessed needs.
On admission the home will provide a Fee Information Form which will give a full breakdown of their current fees. Please note that all other services outside of this will be classed as additional services.
Is there a choice of food and do you cater for special diets?
Our catering team prepare home cooked meals, using fresh seasonal ingredients. We have dining facilities so that you can enjoy your meals whilst socialising with other residents. However, if there are times when you would prefer to have your meal in your own room, this can be arranged.
Each resident has an individual care plan, which includes food choices and dietary requirements; we work closely with the resident and their family and friends to find out their personal preferences.
We also cater for specific dietary needs and individual requirements will be established on admission to the home and reviewed as necessary.
The menu for the day will be displayed detailing food choices available. All dietary requirements can be catered for.
A sample menu is included below:
Snacks and drinks are available for you to enjoy throughout the day and you are welcome to enjoy your favourite alcoholic drink in moderation, provided that your General Practitioner has no objection on medical grounds.
Do your homes offer good quality care?
The Care Quality Commission for England (CQC) and Care Inspectorate for Scotland are responsible for regulating care services in the UK.
They will carry out an unannounced visit of the homes and rate the service they provide. All of our care homes display their current rating on their individual webpages to help you understand the care on offer.
We also monitor our standards of care through our Senior Operations Team who regularly audit each service, as well as our Service Managers who complete various audits.
We are also monitored by various stakeholders including; local authorities who we hold long term contracts with, Environmental Health and the Health and Safety Executive.
Finding your Care Home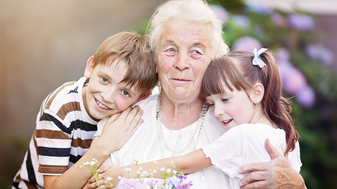 It is our mission to maintain, expand and improve our facilities on a constant basis.
There is no place like home, so we make every effort to keep our care homes as safe, secure, welcoming and warm as your own home would be. In all of our preparation, our focus is to make sure the transition from your family to ours is smooth and simple.
Find Out More
Enriching Lives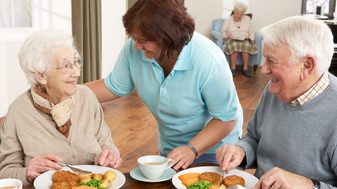 At Holmes Care Group our aim is to create an environment where our people get the most out of life, overcome whatever barriers they might face and live life without limits.
It's our firm belief that everyone, regardless of gender, religion, race, ethnic origin, or sexual orientation deserves support.
Find Out More
Latest news and events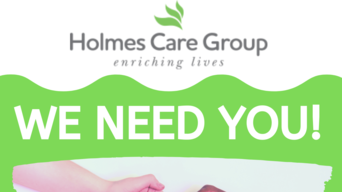 COVID19 Recruitment
Due to current COVID19 climate we are recruiting staff in all areas and all job roles. Please contact recruitment@holmes-care.co.uk for more info.
Kind words from our residents and their families
Baytree Court
Baytree Court is a very relaxed home, pleasant staff and one of the nicest homes I visit, always get a smile. Service users seem happy.
Glenys Newbury - Health Care Community Worker
Almond View Care Home
To all the staff at Almond View - a big thank you for looking after Mum, with such kindness and dedication. Despite living 400 miles away, I always had a good feeling that she was in good hands. When I did visit, the staff without exception, stopped to chat to us even though they were extremely busy. Please accept my heart felt thank you to you all - a real credit to Almond View.
Carol
Bankview Care Home
Thank you for the excellent level of care that my father, Frank Boyle, has received. Bankview demonstrated for us the template for a care home and how it should feel and be run. Friendly, welcoming, excellent care levels, length of time staff remain loyal to the home and above all a clear and comforting atmosphere of great leadership.
Barbara and Jan
Social Work Department
Bankview Day care is welcoming and homely, meeting a wide range of needs with well trained staff and individual care for each client.
Bankview Day Care Centre
Bankview Day Care Centre
I understand why mum loves coming to Bank view Day-care it's a home from home and the activities offered are excellent
J Campbell
Bankview Day Care Centre
The day care centre has made a huge difference to my life. Best thing I ever done, my week was boring now I have days out and shopping trips and good company.
R Burns
Baytree Court Care Home
We can not thank you enough for all the care, support and attention the staff at Baytree Court have given Marc. The staff have always given their time and support to us on visits which has meant a great deal.
Doreen and Yvonne
Beechwood Care Home
Both mum and I were most impressed with Beechwood and we have decided that is where we would like Dad to come to. You have put both mine and mum's minds at rest knowing that Dad will be looked after.
Thank You
Susan Gibson
K Macdonald in memory of my Aunt Jean
I can't exaggerate the admiration I have for the management and staff of Craigielea. I've never experienced so much patience, coaxing, kindness and care. These people share their lives and emotions, laugh and cry and mourn for the people who entrust themselves to care.
Craigielea Care Home
J Ellis in memory of Steve
The staff talked about my best friend being an inspiration to them, despite his illness It made me change my approach with him, instead of being despondent and sad, I spoke with him the way we had always been with each other. The staff saw him as a person.
Craigielea Care Home
Shelagh Goldie
My uncle, who is a retired GP, recently visited Dad on a trip over from Canada and commented that Craigielea is one of the best places he has ever seen in his experience of elderly care units. Very homely, calm, relaxing and wonderful staff. Keep up the fantastic work you do!
Craigielea
Grandholm Care Home
In all my visits I have been most impressed with the Care and Attention shown by all your staff, who are professional and courteous at all times. We are always welcomed with a friendly smile which makes us feel very much part of the home and being involved
J Barber
Grandholm Care Home
Please accept my sincere congratulations for performance and efficiency of Grandholm Care Home. The home provides a very professional, caring and motivational environment with an abundance of patience and understanding. The home is a credit to your team and one of the best in Aberdeen.
I McCormack
← Swipe →