LOVE was in the air at Larkfield View recently as residents and their spouses tucked into a special Valentine's meal
February 18, 2019
In General News
Staff at the home pulled out all the stops to make the party perfect by sending out invitations to the residents' and their families. They helped get the residents ready, prepared a menu and also purchased special waitress outfits.
Couples were seated in the lounge room which had been decorated by the team with heart lights in bottles.There were also drinks cooling in ice buckets and chocolate heart sweet treats.
This is the second time the home has run the event for Valentine's Day and manager Elsie Maclennan says the success of it is down to her 'wonderful' staff.
Elsie said: "We held this last year for the first time and it has already become one of my favourites.
"The staff worked so hard to make it special.
"They have been planning it for weeks.
"It is just a lovely moment seeing the couples enjoy Valentine's Day together.
"The room was beautiful, the couples were happy and the interaction was lovely to see."
Activity Co-ordinators Linda Daisley, Rebecca Outen and Sharon Kelly organised the whole event. Rebecca and Sharon even dressed as waitresses to serve the couples and ensure their glasses of Prosecco were topped up. Cook Ashley Stewart was on hand to make sure everyone enjoyed their meal and Business Administrators Francis Rice and Josie Gallacher attended to make sure everything ran smoothly!
The couples enjoyed pate with oat cakes to start, followed by soup and a choice between chicken or steak and sausage pie, before enjoying a dessert of fresh strawberries and cream on a meringue nest. Tea and coffee were served afterwards as everyone enjoyed a chat.
Elsie said: "Not only was it a chance for the couples to spend time together but also for the residents to socialise with residents from elsewhere in the care home.
"It was a great atmosphere and everyone seemed to enjoy it.
"The staff are amazing, they are always thinking outside the box for events that will benefit the residents and this one was lovely, so I can't thank them enough for their efforts."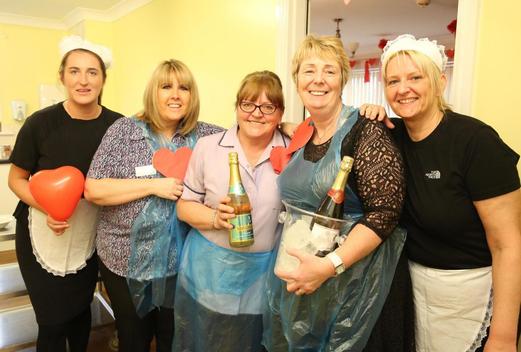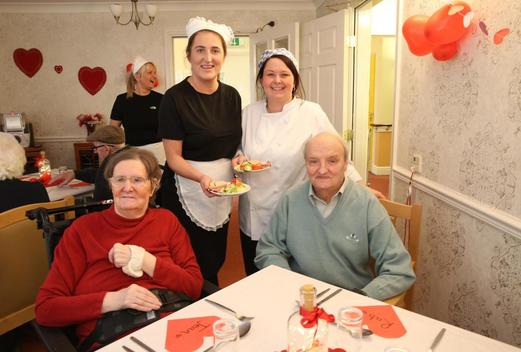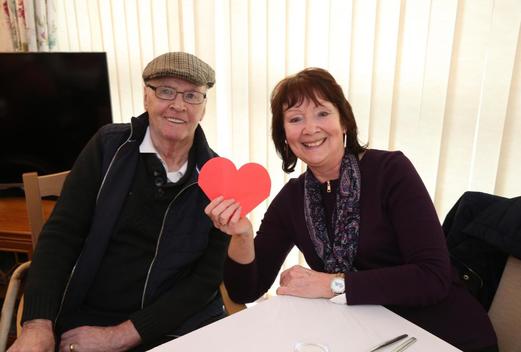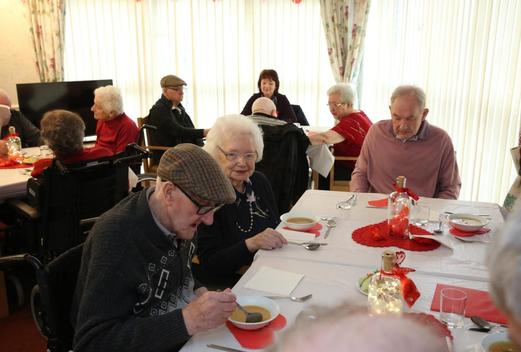 Kind words from our residents and their families
Baytree Court
Baytree Court is a very relaxed home, pleasant staff and one of the nicest homes I visit, always get a smile. Service users seem happy.
Glenys Newbury - Health Care Community Worker
Almond View Care Home
To all the staff at Almond View - a big thank you for looking after Mum, with such kindness and dedication. Despite living 400 miles away, I always had a good feeling that she was in good hands. When I did visit, the staff without exception, stopped to chat to us even though they were extremely busy. Please accept my heart felt thank you to you all - a real credit to Almond View.
Carol
Bankview Care Home
Thank you for the excellent level of care that my father, Frank Boyle, has received. Bankview demonstrated for us the template for a care home and how it should feel and be run. Friendly, welcoming, excellent care levels, length of time staff remain loyal to the home and above all a clear and comforting atmosphere of great leadership.
Barbara and Jan
Social Work Department
Bankview Day care is welcoming and homely, meeting a wide range of needs with well trained staff and individual care for each client.
Bankview Day Care Centre
Bankview Day Care Centre
I understand why mum loves coming to Bank view Day-care it's a home from home and the activities offered are excellent
J Campbell
Bankview Day Care Centre
The day care centre has made a huge difference to my life. Best thing I ever done, my week was boring now I have days out and shopping trips and good company.
R Burns
Baytree Court Care Home
We can not thank you enough for all the care, support and attention the staff at Baytree Court have given Marc. The staff have always given their time and support to us on visits which has meant a great deal.
Doreen and Yvonne
Beechwood Care Home
Both mum and I were most impressed with Beechwood and we have decided that is where we would like Dad to come to. You have put both mine and mum's minds at rest knowing that Dad will be looked after.
Thank You
Susan Gibson
K Macdonald in memory of my Aunt Jean
I can't exaggerate the admiration I have for the management and staff of Craigielea. I've never experienced so much patience, coaxing, kindness and care. These people share their lives and emotions, laugh and cry and mourn for the people who entrust themselves to care.
Craigielea Care Home
J Ellis in memory of Steve
The staff talked about my best friend being an inspiration to them, despite his illness It made me change my approach with him, instead of being despondent and sad, I spoke with him the way we had always been with each other. The staff saw him as a person.
Craigielea Care Home
Shelagh Goldie
My uncle, who is a retired GP, recently visited Dad on a trip over from Canada and commented that Craigielea is one of the best places he has ever seen in his experience of elderly care units. Very homely, calm, relaxing and wonderful staff. Keep up the fantastic work you do!
Craigielea
Grandholm Care Home
In all my visits I have been most impressed with the Care and Attention shown by all your staff, who are professional and courteous at all times. We are always welcomed with a friendly smile which makes us feel very much part of the home and being involved
J Barber
Grandholm Care Home
Please accept my sincere congratulations for performance and efficiency of Grandholm Care Home. The home provides a very professional, caring and motivational environment with an abundance of patience and understanding. The home is a credit to your team and one of the best in Aberdeen.
I McCormack
← Swipe →